Frequently asked questions
1) VDO Fleet Web
Can more than one person use VDO Fleet?
You can have as many simultaneous users logged on as there are registered user names on your account. These can be located anywhere where an Internet connection is available. We strongly recommend that all users of VDO Fleet have unique user names and passwords assigned. If user names and passwords are shared then it may prove difficult to identify who entered and changed data in the event of a query.

My analogue chart reader is not responding what is happening?
Please check your connections first. To operate correctly both serial cables must be connected to allow data transmission even if using a USB - Serial converter and the short PS2 cable must also be connected to the PC to provide power. Where no PS2 or serial connections are available Continental Automotive Trading UK Ltd. can supply a suitable USB converter.
The VDO Compact Chart Reader is automatically detected and configured by the VDO Fleet software. However this detection can only happen if the reader is connected to a serial port configured as either COM1 or COM2. If connected to a serial port configured as COM3 or higher the reader will not be recognised.
If you need to reconfigure your COM ports to be recognised as COM1 or COM2 please contact your IT department.

Does reading a Driver Card delete the data from it?
VDO Fleet only reads the data from the driver card and makes an exact copy of that data for archiving purposes. The activities stored on the driver card and vehicle unit are never deleted or altered by VDO Fleet.

Where can I buy more storage capacity for VDO Fleet?
Data blocks can be purchased on this site please click here.

What are the system requirements for VDO Fleet?
VDO Fleet can currently be used with the following PC operating systems:
Windows Vista®
Windows® 7
Windows® 8 and Windows® 8.1
Your PC will also need:
50MB free hard disk space
One free USB port for a Smart Card Reader
One free serial port (only if using Compact Chart Reader for analogue charts)
Broadband Internet connection
What Internet Browsers can I use
You can use VDO Fleet with the following Internet browsers:
Microsoft® Internet Explorer® 8 or higher
Mozilla® Firefox®
Google Chrome™
What settings must I allow in my browser?
If you are using Microsoft® Internet Explorer® you must have administrator rights or be entitled to install programs so that VDO Fleet can create the "VKISCInt" folder on your computer. You can then limit the rights and permissions for this folder by assigning Full control to the System user and to the relevant VDO Fleet Evaluation user only. To do this, right-click on the folder to open the folder's shortcut menu, click on Properties and then click on the Security tab.
The computer will then be protected again against unauthorised access when being restarted or when another user logs on. The "VKISClnt" folder can be accessed without limitations, e.g. to update existing program entries. It is not necessary to share the folder.
To use VDO Fleet with Microsoft® Internet Explorer® ActiveX® controls and plug-ins must be enabled for executing and installing on secure web sites. To do this, start Microsoft® Internet Explorer®. On the Tools menu, click on Internet Options. On the Security tab, Internet is selected by default. Click on Custom Level and enable the relevant entries for ActiveX® controls and plug-ins.
If you are using Mozilla® Firefox® or Google Chrome™ you will need to install a separate software package to be able to read driver cards and download keys. This software package is the VDO Fleet Client Communication Service. This package can be downloaded by selecting Help followed by Download and then VDO Fleet Client Communication Service.

What is the difference between evaluation and archiving (when referring to Tachograph data)?
Archiving
Current EU legislation on analogue tachographs requires operators to analyse a proportion of their charts and bring any faults and infringements to the driver's attention. This ensures that the provisions of both the Tachograph and Drivers Hours Regulations are complied with. The operator is also required to keep the charts for 12 months.
With digital tachographs the requirement to analyse remains the same, but in addition the operator is required to download the vehicle unit (at least within every 56 days) and the driver card (at least within every 28 days) in order to ensure that the digital data is stored for 12 months with the digital signatures intact (this is a code within the data that shows it has not been tampered with). This whole process is called Archiving.
Archiving your data in VDO Fleet provides an easy to use and secure means of storing downloaded digital tachograph data. By keeping the archived data separate from the data used for evaluation purposes the integrity of the original data can be assured.
Should you need to retrieve your original digital tachograph data the VDO Fleet archive contains features that allow you to copy the data back to your local PC at any time.
Evaluation
Evaluation is the data management part of VDO Fleet which processes digital data from a driver card and Downloadkey and analogue data from tachograph charts to create a full record of the driver's activities. This data can then be used to obtain driver reports that show driver infringements, Working Time Directive status, other driver activities and also vehicle reports that can be used to manage your fleet effectively.

How Does VDO Fleet-Web work?
For a quick overview of how the system works please refer to the following diagram: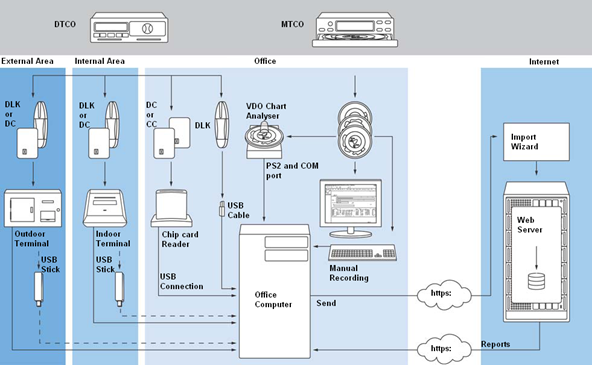 How many drivers and vehicles can I use with this service?
VDO Fleet is suitable for fleets of all sizes. If working with very large sets of drivers or vehicles you may find it advantageous to have an account per depot or to split a single account into driver and vehicle groups.
Many VDO Fleet accounts include hundreds of vehicles and drivers, but the service is just as suitable for owner drivers and smaller fleets

How do I get upgrades for VDO Fleet-Web?
VDO Fleet is Internet based and all upgrades are supplied and loaded onto your PC automatically. The cost of VDO Fleet upgrades is included in your volume unit pricing so there is no further charge. The upgrades are loaded onto the Continental servers and downloaded to your PC the next time you login. Your existing data will be preserved and will still be available in the new version.
Automatic upgrading has several advantages:
Less IT support required
Multiple work stations guaranteed to be at same version
No requirement for installation or upgrade CD's
Upgrades are loaded as soon as they are available
Lower cost
No annual licence fee
VDO will give advance notice of any upgrades so that you can plan the loading of the new software on your PC with your IT department.

If I don't have a VDO tachograph fitted can I still use VDO Fleet-Web?
You can use the VDO Fleet service to analyse data from any digital tachograph which has EU type approval. VDO Fleet is compatible with all currently approved makes of digital tachograph and driver cards issued by any EU Member state. VDO Fleet is designed to be used with reading devices purchased from VDO but is also compatible with a range of data downloading devices supplied by other manufacturers such as the following:
Stoneridge - Optac device
Lisle Designs - Digidown
Can I store data from analogue and digital tachographs?
VDO Fleet allows the storage and analysis of data from both digital and analogue tachographs. Where data of both formats exists for a driver on the same day it is automatically merged to provide an easy to read record of the driver's daily activities. This merged data can be further analysed for drivers hours monitoring, Working Time Directive analysis or fleet management purposes.
The merged data can still be identified as belonging to either an analogue or digital source.
To read analogue charts into VDO Fleet you will need an analogue reading device such as the VDO Compact Chart Reader (Part No 60799244). This reader may be bought as part of a package or separately. Please see our link here.

Can I analyse data from the vehicle unit?
You may download data from the vehicle unit into VDO Fleet. To do this you will need a download device such as the VDO DownloadKey and a company card. The VDO DownloadKey is available from our on-line web shop (www.vdo-shop.com/gb). Company cards may be provided by the DVLA on 0870 850 1074.
Please note that you must also download your driver cards as well as the vehicle unit.

Does transferring data from the vehicle unit delete the data from it?
VDO Fleet only accesses vehicle unit activities via a Downloadkey and has no direct access to the vehicle unit. VDO Fleet makes an exact copy of that data for evaluation and archiving purposes. The activities stored on the vehicle unit are never deleted or altered by VDO Fleet.